Juancarlo Villatoro
Graduate Student
My name is Juancarlo Villatoro. I am in the last semester of a master's degree at Florida State University pursuing the Integrated Marketing Communications with a graduate certificate in Multicultural Marketing Communications. I have a Bachelor's of Science in Anthropology from Virginia Commonwealth University. Currently, I am working as a Marketing Manager for The Stick Case, an iPhone accessories and lifestyle brand based in Toronto, Canada. I am interested in expanding my skill sets in the areas of branding, digital communications, public relations, promotions, and social media focusing on the Hispanic and LGBTQ+ markets upon graduating.  During and after my undergraduate program, I worked with several Hispanic/Latino-focused organizations including the Hispanic Council on Aging, Remezcla, The Organization of American States, and the Coalition for Hispanic Family Services among others. Upon the completion of my master's program, I would like to continue developing professionally with Latino-focused organizations or corporate organizations that are expanding their Hispanic markets preferably in Media organizations. During my spare time, I enjoy learning about Latin social issues in the United States and in Latin America. I like to stay informed with what is happening around the world to better understand immigrant populations in the United States. Additionally, I make music, write poetry, and attend concerts as well. I have a passion for menswear and indie music. 
Graduate Student
I am a graduate student at FSU in the Integrated Marketing Communications Program. I received my undergraduate degree in Marketing with a minor in Communications from FSU. Over the past summer I worked at Newell Brands as a Brand Development intern. During my time there I organized and led an ideation session to create new product ideas for the Sunbeam brand. I calculated financial projections for potential future product launches. I also conducted a global packaging analysis for Sunbeam. Having lived in Germany for four years, I developed a passion for travelling and an interest in international business. I have a strong interest in the entertainment industry, music in particular. On my free time I enjoy writing and performing music.
Graduate Student
A native of Hattiesburg, Mississippi, Anna Dean attended and graduated from the University of Southern Mississippi (USM) in 2016 with bachelor degrees in Music Education and Violin Performance. She is currently pursuing a master's degree in Arts Administration in Music at Florida State University (FSU) in Tallahassee, Florida. During her time at USM, Anna held positions as a Marketing and Public Relations Intern with the College of Music, and Administrative Assistant to the Director of the Southern Mississippi Youth Orchestra. While studying at FSU, she has served as a graduate assistant to the dean of the College of Music, an artist services and marketing intern with Opening Nights Performing Arts, a box office assistant with Tallahassee Symphony Orchestra, and a house manager for Ruby Diamond Concert Hall, Tallahassee's main concert hall. These experiences allowed her to experience music and art from a completely different viewpoint. She intends to pursue the Certificate in Multicultural Marketing and Communication in an effort to gain a greater understanding in the field of marketing. Aside from gaining more experience in the field of arts administration, Anna continues to study violin seriously, and also continues to teach privately. She is very excited to join the Center for Hispanic Marketing and Communication Mentorship Program this year!
Graduate Student
Born and raised in Panama City, Panama, Alessandra began her journey at Florida State University in May of 2012. She graduated in 2016 with a degree in Public Relations and Creative Writing and a minor in Psychology, and is now thrilled to be pursuing a master's degree in Integrated Marketing Communication. In the future she hopes to devote her career to the Hispanic market, aiming to bridge communication gaps between Hispanic/Latinos and other cultural groups. Besides loving her pet Chihuahua Lucy, her interests include reading (southern literature and Harry Potter-related books preferred), writing short stories, and looking out for the next awesome anime to come out.
Graduate Student
Born and raised in Miami, FL I pursued my undergraduate degree in Psychology at Florida International University. Upon graduating I taught English in Europe before entering the corporate workforce at Baptist Health South Florida. During my time with BHSF I gained valuable knowledge and experience that ultimately inspired me to earn a graduate degree. Currently, I am a graduate student in the Integrated Marketing Communications program at Florida State University. As a first generation American I come from a Cuban background and I am a fluent Spanish speaker. Pursuing my masters degree along with the Multicultural Marketing Certificate will allow for me to gain the knowledge needed to jumpstart my career upon graduating
Undergraduate Student
I am an Undergraduate student at Florida State University with a major in Information, Communication, Technology and a minor in Hispanic Marketing. I can fluently speak English and Spanish, as well as elementary Italian. I have earned my Girl Scout Gold Award, which is the highest possible award a Girl Scout could achieve. For my project, I built saddle racks for my stable in order to reply to the rise in demand due to the increase of riders in the equine therapeutic program. Currently, I participate in the Alpha Gamma Delta sorority, which has given me various opportunities to expand my personal development. Societies I am involved in are the Oscar Arias Sanchez Hispanic Honor Society as well as the Phi Sigma Theta National Honor Society. My freshman year, I was given the amazing opportunity to study abroad in Florence, Italy as well as Valencia, Spain. This experience led to my passion for other cultures. Being immersed into these countries sparked a want to communicate with them through advertisements and marketing. I enjoy to travel and to dedicate my time to the community through volunteering. Other hobbies include horseback riding and watching Netflix for hours on end.
Undergraduate Student
I am an Undergraduate student at FSU pursuing a major in Spanish with Marketing Studies, while dual minoring in General Business and Hispanic Marketing Communication. I am fluent in English and semi-fluent in Spanish. I've been a member of both the Advertising and Social Media teams at The Center for Hispanic Marketing Communication since Fall 2016. My responsibilities within these roles include creating content and designs for events, designing and editing the newsletter each semester, and assisting in running The Center's social media pages. This past summer I was afforded the opportunity to study abroad in Santa Ana, Costa Rica with FSU's International Programs. Through its immersive setting, my Spanish speaking skills increased immensely and I was able to learn much about different Hispanic cultures. I've completed various internships during my undergraduate career. While in Costa Rica I completed a sustainability internship, specifically focusing on carbon neutrality. In the summer of 2016 I completed a 3-month marketing internship with World Wide Wings, a franchisee of Buffalo Wild Wings. After graduation, I plan on pursuing a career where I'm able to use the Spanish skills and business knowledge I've acquired to work with the Hispanic segment as a collective.>
Graduate Student
Divya Dhamija was born and raised in India. She is currently a graduate student in the IMC program. Previously, She was working for a tech firm as a Project Manager for more than two years. She has received an undergraduate degree in computer Science. She is also working as a Volunteer at the Hispanic Marketing Center. She speaks English, Hindi, Punjabi very well. She has learnt basic French. I am also a part time fashion blogger and a literature enthusiast. She reads and write poetry for my own blog. She is interested to establish her own clothing line.div>
>
Graduate Student
I am a multilingual Puerto Rican currently enrolled in the Integrated Marketing and Communications master's program at Florida State University. I received my bachelor's degree in Sociology with a minor in General Business Administration at FSU. During my time as an undergrad, I was fortunate enough to be able to study abroad in Valencia, Spain. I graduated from FSU with the prestigious honor of being one of thirty-four inductees of the Garnet and Gold Scholar Society. I also graduated as a member of Phi Sigma Theta National Honor Society and Delta Zeta sorority. I am currently a member of the marketing team for the Center for Hispanic Marketing Communication at FSU. I have a deep affinity for travel in both my personal and professional life and plan on traveling as often as possible for the rest of my life. Ideally, being fluent in Spanish and English and proficient in French will give me the opportunities for work that I desire.
Graduate Student
This past summer I had the pleasure of working with Newell Brands as a Brand Management Intern in Boca Raton, Florida. It was there that I fell in love with design thinking. I've always loved solving problems using creative means. At Newell I saw firsthand how important it is to understand the users of manufactured products. I loved connecting with consumers to analyze usage patterns, trends and problems. Designing with a user-centric approach creates meaningful innovation. I hope to someday use my knowledge of design thinking to help foster differentiated ideas that dominate and disrupt the market. My path to this realization has been anything but direct. I received my bachelor's degree in Health Education Behavior at the University of Florida in 2015. After a yearlong position at UF Health working in the Clinical Laboratories as a health communicator I decided to pursue a master's degree in Integrated Marketing Communications at Florida State University. I have worked as a Graduate Teaching Assistant for Public Speaking and Introduction to Digital Design. Aside from design thinking I am also interested in consumer insights and marketing research. I enjoy video games, cartooning and videography. My dream job is to work at Turner Broadcasting for Adult Swim. Whatever the case, I hope I can utilize my research skills, passion for design thinking and creativity to give the industry something it's never seen before.
Graduate Student
I am a Graduate Student at FSU in the Integrated Marketing Communications program. I graduated from FSU with my bachelor's degree in English: Editing, Writing & Media and International Affairs, with minors in Communications and Spanish. I have spent a good deal of time in Spanish speaking countries in Europe and South America and I studied the culturally significant differences between the two cultures for my honors thesis. I am currently working as a Graduate Assistant at the Division of Student Affairs Marketing office. I work closely with a team of designers to produce vibrant engaging content that promotes campus events and encourages students to get involved with the University. My responsibilities include graphic design, HTML coding, social media content management, event scheduling, staff management and content writing. The writing and design experience I garnered in my undergraduate career has benefited me tremendously in my graduate school. I hope to enter into a career filed that will allow me to utilize both my communication skills and creative design experience. I am also passionate about literature, art, environmental activism, sports and global issues. I play intermural flag football and softball and I have been involved in numerous activism organizations.
Graduate Student
I am a graduate student in the Integrated Marketing Communications program. Being here is a dream come true that started a long time ago. I am from Colombia and always considered continuing my studies in the U.S. to learn about many diverse cultures and engage others within the Latin culture, which is becoming more important every day around the world. I finished my undergraduate degree in Communication and Journalism in Universidad Del Norte, Barranquilla, Colombia. In between my school years, I worked as journalist in the Carnaval de Barranquilla and other city events, I was an intern in the Colombian Air Force, and I belonged to the Women's basketball, soccer, and tennis teams. I won a Student Scholar Athlete Award in 2012. Then,I came to this country three years ago without having ever spoken or written a word of English; however, in my mind an obstacle like that was just another challenge I needed to work through to achieve my goals. Since then, I have learned English in addition to Portuguese so I can achieve my long-term goals in working within the entirety of the Latin Community. Since arriving in Maryland, where I studied English, I worked as an intern and volunteer with Hispanic organizations.  I worked with the U.S. Hispanic Chamber of Commerce in Washington D.C., the Maryland Hispanic Business Conference, served as a radio show co-host onLatinos en Maryland, supported MCTV at Montgomery College by interning for the program Generacion Latina, and served as an associate editor at a Colombian television station also in Washington. Before moving to Tallahassee, I was the president of the Brazilian Club in Montgomery College, and I also assisted the college's women's soccer team. In general, my experiences have given me knowledge in being multilingual, using programs such as cmap tools, final cut pro, Adobe Premiere-pro, marketing plan, among others.
Graduate Student
I am from Panama City, Panama. I did the first two years of my bachelor´s degree in Marketing and Management at the Florida State University campus in Panama, and completed the last two years abroad at the Tallahassee campus. Currently, I am a Graduate student at FSU in the Integrated Marketing Communications program. I enjoy pursuing new adventures and stepping out of my comfort zone, and I have accomplished this with many experiences at FSU. In my internship at the FSU Career Center, I executed mock interviews for undergraduate students, graduate students and recent alumni utilizing multiple technology systems, and participated in monthly professional development sessions. In addition, I joined organizations such as the Alpha Kappa Psi fraternity, the American Marketing Association and Operation Smile because I enjoy meeting new people, and appreciate their different perspectives. Recently, I became part of the Marketing team for the Center for Hispanic Marketing Communication, and I plan on expanding my knowledge of the Multicultural and Hispanic market. Moreover, I am fluent in both Spanish and English.
Graduate Student
I am a graduate student at FSU studying Integrated Marketing Communication with a minor in Event Management. In addition to the IMC program, I am currently enrolled in the TEFL (Teaching English as a Foreign Language) certification program through FSU's Center for Intensive English Studies. Through this program I have been exposed to global teaching styles and currently mentor students from Beijing and Kuwait who are studying at Florida State this year. My undergraduate studies were in Spanish and Marketing where I spent five months living as a full-time student in Valencia, Spain during the spring of 2016. It is through all of these experiences that have led to my passion for language and culture immersion, recruiting, working with students, public speaking, consulting, event planning, marketing, and intercultural relations.I currently serve as Student Director of Group Fitness at Florida State leading prospective group fitness instructors through a training process while also serving as the liaison between the current instructors and Campus Recreation professional staff. I enjoy traveling both domestically and internationally and hope to incorporate travel in my endeavors post graduate school. I am looking for advice for internships summer 2018 and post-graduate entry level positions involving any or all of the interests listed above in both small and large organizations.
Graduate Student
I was born in Barranquilla, Colombia but I have lived in Florida most of my life. I am a junior undergraduate student at Florida State University majoring in ICT (Information, Communication, and Technology), minoring in Commercialization Entrepreneurship, and pursuing the Certificate in Multicultural Marketing. I speak English and Spanish fluently and know a little bit of French. I want to get experience in marketing/advertising, business management/administration, finance, and social media management. I eventually want to start my own online business selling vintage-inspired clothing that I design. I was thinking of getting a Master's in Fashion Design, Business Administration, or Marketing. I would love to do it on Europe if I got a scholarship such as the Fulbright Scholarship. I recently started my own vintage fashion blog, where I am incorporating Google Ad Sense and I am learning how to sew at SewNoles Fabrics & Lessons. I salsa dance on Fridays with Corazon Dancers and my favorite two genres of music are jazz and classical/instrumental music. I did an internship as a Public Relations Specialist through the Center for Hispanic Marketing Communications at FSU spring 2017 and before I graduate in spring 2019 I hope to get some more experience in things that interest me, including an internship in a big city (hopefully in another state) or even in Europe over the summer. I might enter the InNOLEvation Challenge this school year with my friend to start a social venture company perhaps in helping human trafficking victims or maybe instead try to develop an engineering idea I've had for the longest time with the help of a group of engineers. I don't know if I will end up entering the competition, but I am still interested in the business world and so throughout the school year I am going to attend several events that have to do with entrepreneurship. Once I learn how to sew with a sewing machine, I will eventually buy one (maybe by the end up this semester) and see if I can start making my own clothing based off my own designs.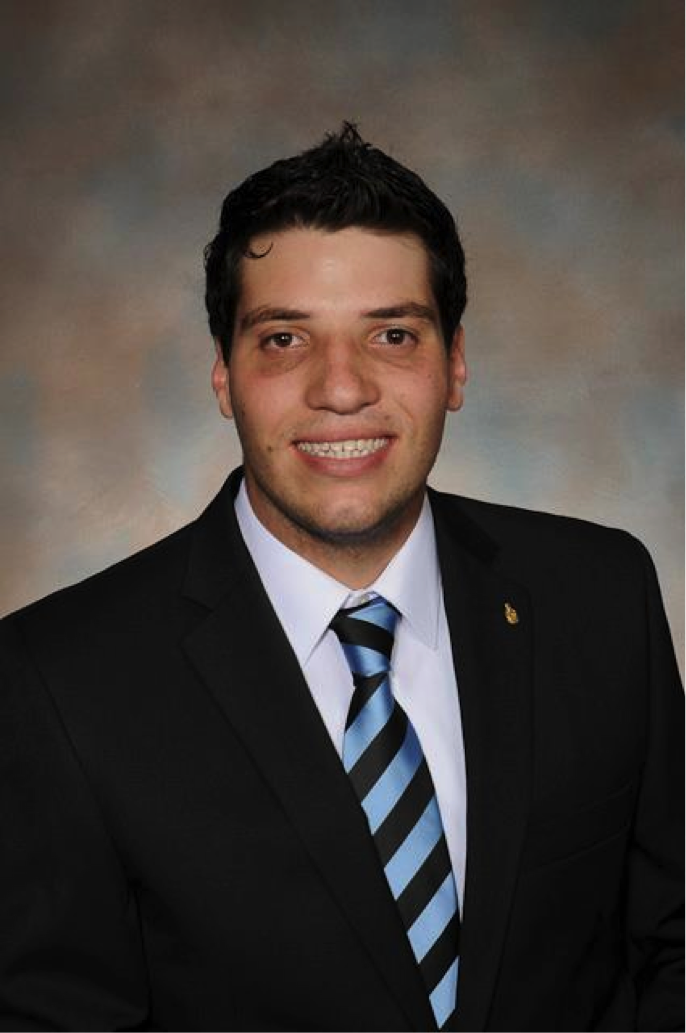 Graduate Student
Born and raised in Bogota, Colombia, I am presently, a Graduate Teaching Assistant at The Florida State University College of Communication and Information and I am pursuing my Master's in Integrated Marketing Communication with a certificate in Multicultural Marketing. I also received my undergraduate degree at FSU, graduating with a double major in Business Management and Marketing in 2014. Additionally, I am the Community Outreach Coordinator at The Center for Hispanic Marketing Communication. My professional experience, which mirrors my passion for business, is coupled with my ability to adapt and embrace challenges, allowing me to grow both personally and professionally. My family's continual support, my diverse, cultural background and my professional success within the United States have inspired me to leave a lasting and positive impact within my immediate community and ultimately on this world.